Une belle journée ; que faire maintenant ? /// A beautiful day; what to do now?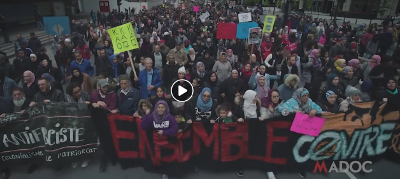 [English version below]
La manifestation contre le racisme a attiré 5000 personnes au centre-ville de Montréal, toutes unies contre les projets régressifs et discriminatoires du nouveau gouvernement.
Ça n'aurait pas pu être une plus belle journée!
Les organisatrices et organisateurs de la Grande manifestation contre le racisme de dimanche tiennent à remercier l'ensemble des groupes et individus qui ont contribué à faire de cette manifestation une si belle réussite!
Avec la présence dynamique de milliers de personnes (nous étions environ 5000 selon de nombreuses estimations indépendantes!), avec les discours émouvants des intervenant-e-s qui ont pris la parole (un merci tout spécial à Van Edouard, Al Harrington et Maya Cousineau Mollen du Wolf Pack Street Patrol, Safa Chebbi d'Alternatives, Marlihan Lopez de la Fédération des femmes du Québec, Yassi de Féministes racisé-e-s uni-e-s et solidaires (FRUeS), Jeremy Gibbs, dont l'oncle -Nicholas Gibbs- a été tué par le SPVM le 21 août dernier, le Collectif Emma Goldman, le collectif Ni Québec, ni Canada : projet anticolonial et plusieurs autres...), et avec l'appui de plus de 50 groupes, collectifs et organisations communautaires et syndicales, cette manifestation antiraciste a pris un caractère historique, alors que le nouveau gouvernement annonce déjà ses intentions d'antagoniser directement les communautés (im)migrantes et racisées et de concentrer des mesures régressives contre les minorités religieuses.
En nous voyant toutes et tous ensemble, uni-e-s contre la haine et le racisme, contre le sexisme insidieux et l'héritage colonialiste qui nous étouffe encore aujourd'hui, l'on pourrait croire que tout est possible, que nous pouvous, ensemble, bloquer le vent de droite qui souffle sur cette belle province. Mais ne nous reposons pas sur cette belle réussite. Il reste beaucoup de travail à faire. Il nous faudra nous mobiliser à nouveau, souvent, avec vigueur, nous serrer les coudes, nous entraider, et surtout, ne pas nous laisser diviser par un gouvernement qui ne manquera pas de manigancer pour semer la discorde dans les forces populaires.
N'oublions pas non plus les groupes et propagandistes d'extrême droite qui se tapissent dans l'ombre, s'organisent et cherchent à prendre de plus en plus de place, avec leurs idées toxiques incitant à la haine de nos voisin-e-s.
Impliquons-nous activement dans les groupes et les projets antiracistes dans nos communautés (si ça n'estt pas déjà le cas), et si un engagement soutenu n'est pas possible, cherchons les moyens d'appuyer les groupes et activités organisées autour de nous pour contrer le racisme, l'islamophobie et la violence genrée.
Nous vous invitons aussi à suivre les groupes qui ont co-présenté la manifestation du 7 octobre, dont Montréal Antifasciste, Solidarité sans frontière/Solidarity across border/Solidaridad sin frontera, Bouffe contre le fascisme / Food Against Fascism - Montréal, La CLAC, et IWW Montréal pour connaître les prochains événements ou vous impliquer davantage.
La lutte ne fait commencer! Ils ne passeront pas!
Voici une magnifique vidéo de la manifestation tournée par MADOC, et quelques albums photos produits par des camarades!
///
Yesterday's demonstration against racism brought out up to 5000 people in Montreal's downtown, all united against the regressive and discriminatory policies of the new provincial government.
It couldn't have been a more beautiful day!
The organizers of Sunday's Mass Demonstration Against Racism would like to thank all the groups and individuals who contributed towards making this event a huge success!
With the lively presence of thousands of people (roughly 5000 according to numerous independent estimates), the passionate speeches (a special thank you to Van Edouard, Al Harrington and Maya Cousineau Mollen from the Wolf Pack Street Patrol, Safa Chebbi from Alternatives, Marlihan Lopez from the Fédération des femmes du Québec, Yassi from Féministes racisé-e-s uni-e-s et solidaires (FRUeS), Jeremy Gibbs, whose uncle - Nicholas Gibbs - was killed by the SPVM last August 21st, the Emma Goldman Collective, the Ni Québec, ni Canada : projet anticolonial collective, and many others...), and with the support from over 50 different groups, collectives, and unions, this anti-racist demonstration wrote a page in history. Meanwhile, the new government-elect has already announced its intentions to directly antagonize migrants and communities of colour, and to introduce regressive measures against religious minorities.
Seeing all of us together, united against hatred and racism, against sexism and colonialism that endures today, we believe that anything is possible, and that all of us, together, can block the forces of the far-right that are taking hold across la belle province. But we will not rest after this most recent victory. There remains a lot of work to be done. We will have to mobilize again and again, often, and with force, get ready, help each other out, and most importantly, not allow ourselves to be divided by a government that won't miss an opportunity to sow the seeds of fear and ignorance among the population.
Let's not forget that there are far-right groups and agitators lurking in the shadows, who are organizing and trying to take more public space with their toxic ideas of inciting hate against our neighbors.
We can get involved in anti-racist groups and projects in our communities (if we aren't already), or if that isn't possible, then we can support groups and activities organized around us to fight racism, Islamophobia, and gendered violence.
We encourage you to follow the groups who co-organized the October 7 demonstration online, including Montréal Antifasciste, Solidarité sans frontière/Solidarity across border/Solidaridad sin frontera, Bouffe contre le fascisme / Food Against Fascism - Montréal, CLAC (Anti-Capitalist Convergence), and the IWW Montréal, to find out about upcoming events, and to get involved!
The struggle has just begun! They shall not pass!
Here is a beautiful video shot by MADOC, and a few photo albums put out by comrades of ours: