Dernières nouvelles
publié le 2019-02-10 /// published on 2019-02-10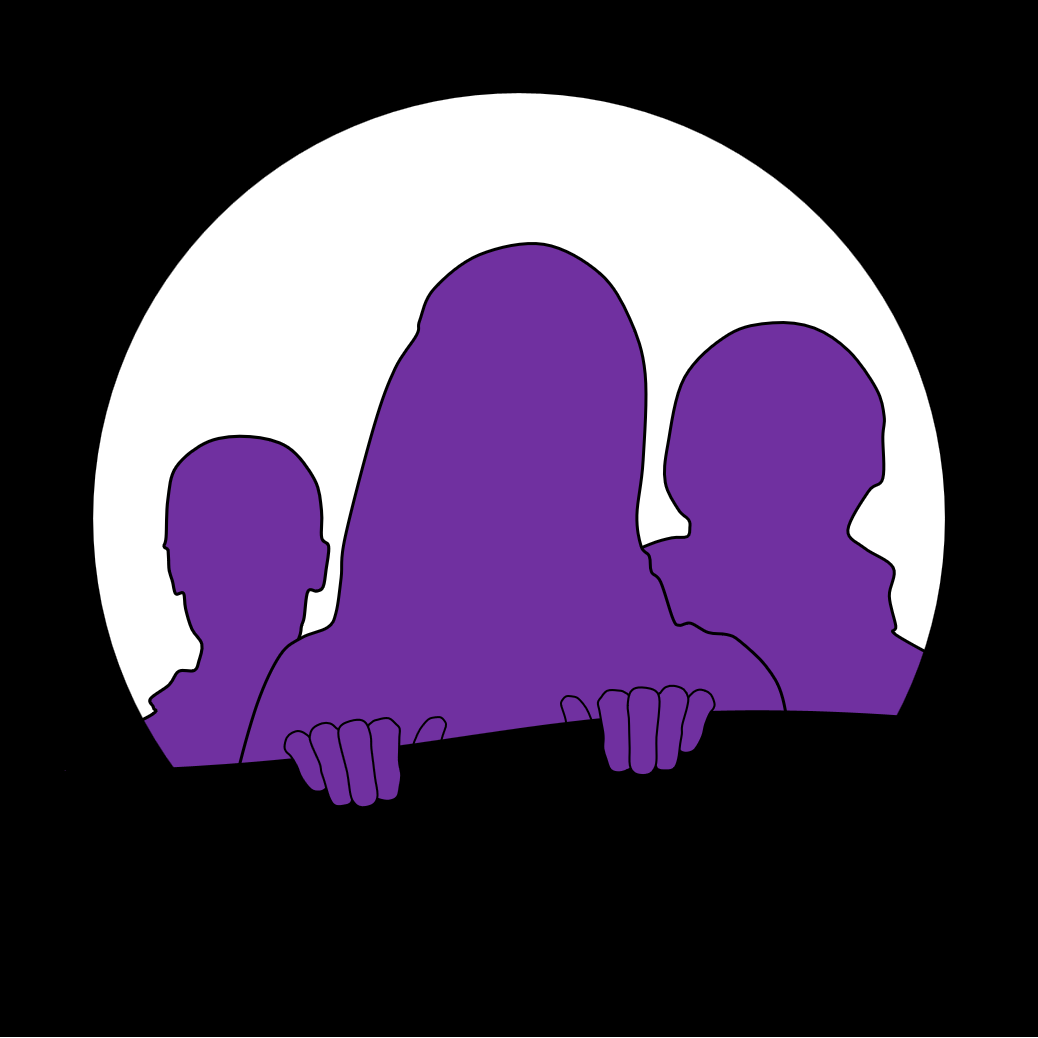 Dimanche, 10 février 2019,
De 13h à 16h,
CÉDA, 2515 rue Delisle, près du métro Lionel-Groulx.
Notez que :
La traduction français/anglais sera disponible.
Il y aura des collations et des breuvages non-alcoolisés sur place.
La salle est accessible aux fauteuils roulants. Si vous avez des questions à propos de l'accessibilité, veuillez nous contacter à : info@manifcontreleracisme.org
Si vous avez besoin du service de garderie, svp nous prévenir 48h à l'avance à : info@manifcontreleracisme.org
Suite au succès de la deuxième Grande manifestation contre le racisme du 7 octobre dernier, les organisatrices et organisateurs vous invitent à une assemblée publique pour poursuivre ensemble la lutte contre le racisme. Des milliers de personnes ont participé à la manifestation du 7 octobre pour s'opposer aux sentiments anti-immigrants, islamophobes et antisémites qui empoisonnent le Québec, la banalisation des discours racistes et d'extrême-droite sur la place publique, ainsi que les projets xénophobes du gouvernement de la CAQ. Nous voulons tenir cette manifestation chaque année, tant qu'il le faudra, mais nous croyons aussi qu'il est nécessaire de regrouper les personnes, les groupes et les organismes qui luttent contre le racisme ou à qui cet enjeux tient à coeur pour continuer la lutte tous les jours de l'année.
Nous vous invitons donc à une assemblée populaire, le 10 février 2019, de 13h à 16h. Cette assemblée sera l'occasion de faire un bilan des luttes antiracistes au Québec et d'identifier les enjeux importants, de renforcer les liens entres les groupes ainsi que de créer une coalition pour faciliter le travail en commun. Nous croyons qu'il est important de véhiculer le discours antiraciste dans les médias de masse et les médias sociaux pour répondre à celui de l'extrême-droite et des racistes, surtout alors que le gouvernement québécois s'apprête à interdire le port des signes religieux pour des milliers de travailleuses et de travailleurs parce qu'elles et ils ne pratiquent pas la religion de la majorité.
Les principes de base de l'assemblée anti-raciste sont les suivants:
Nous nous opposons à l'impérialisme, au colonialisme, au racisme (incluant l'islamophobie et l'antisémitisme), au patriarcat, au capacitisme, à l'hétérosexisme, à la transphobie et à toute autre forme d'oppression.
Nous soutenons l'ouverture des frontières et le libre mouvement des personnes à la recherche de justice et de dignité, c'est à dire la liberté de se déplacer, la liberté de revenir et la liberté de rester.
Nous nous opposons à la montée des groupes d'extrême-droite et fascistes, qui prônent la violence et tiennent des discours haineux.
Nous ne plaçons pas notre espoir dans les politiciens ou les partis politiques, nous croyons plutôt au pouvoir collectif et autonome des réseaux et mouvements populaires. C'est pourquoi nous ne nous affilions à aucun parti politique.
Nous reconnaissons que nous nous trouvons sur le territoire traditionnel de la nation Kanien'kehá:ka (Mohawk). Les Kanien'kehá:ka sont les gardiens de la porte de l'est de la confédération Haudenosaunee (Iroquoise). L'île appelée « Montréal » est connue sous le nom de Tiohtià:ke en Kanien'kéha et a historiquement été un point de rencontre pour d'autres peuples autochtones. Nous soutenons activement la souveraineté et l'autodétermination des peuples indigènes, et nous nous vouons à approfondir notre compréhension collective des luttes indigènes.
L'ordre du jour de l'assemblée sera le suivant :
Présentation et principes de base
Tour de présentation des personnes présentes
Bilan de la manifestation du 7 octobre 2018
Plénière sur la conjoncture et les enjeux antiracistes, ainsi que sur les luttes que nous voulons mener
Discussions en sous-groupes selon les sujets importants identifiés par les personnes présentes
Proposition de base de fonctionnement pour la nouvelle coalition antiraciste
Prochaine rencontre
Pour toute information, contactez-nous à : info@manifcontreleracisme.org
N'hésitez pas à inviter d'autres personnes ou groupes qui pourraient être intéressées.
///
Large Public Assembly Against Racism
Sunday, February 10th, 2019,
From 1PM to 4PM,
CÉDA, 2515 Delisle, near the Lionel-Groulx subway station.
Note that:
English/French translation available.
Snacks and non-alcoholic beverages will be available.
Room accessible to wheelchairs. If you have accessibility questions, contact us at info@manifcontreleracisme.org
If you need childcare services, please contact us 48h in advance at info@manifcontreleracisme.org
Following the success of the October 7th demonstration against racism, the organizers of the event are inviting groups to a public assembly in order to continue our fight against racism. Thousands of people marched during the October 7th demonstration to denounce anti-immigration, antisemitic and islamophobic rethoric currently poisoning Quebec, to denounce the increase of far-right and racist discourse in the public sphere, and to fight the CAQ government's xenophobic projects. We want to organize this yearly protest for as long as it is necessary, but we also think that it is important to work together throughout the year as well. This call is for every individual, every group and every organization currently fighting racism or for which this issue is important.
The public assembly will be on February 10th, 2018, from 1PM to 4PM. The assembly will be an opportunity to review the past and current antiracist struggles in Quebec, to identify the current challenges, to reinforce the relationships between groups and to create a large coalition to facilitate communication. We believe it is important to produce antiracist discourse in mass media and social media spheres in order to counter the lies of the far-right and racists, especially now since the Quebec government plans to forbid religious symbols for thousands of workers simply because they do not follow the religion of the majority.
The basic principles of the antiracist assembly are as follow:
We are against imperialism, against colonialism, against racism (including islamophobia and antisemitism), against patriarchy, against capitalism, against heterosexism, against transphobia and all other forms of oppression.
We support open borders and the free movement of people seeking justice and dignity, which includes the right to migrate, the right to return, and the right to stay.
We oppose the rise of far-right and fascist groups, which promote violence and spread hate.
We will not count on politicians or political parties, we instead believe in the collective power of autonomous networks and grassroots movements. As such we are not affiliated to any political party.
We recognize that we are currently in the traditional territory of the Kanien'kehá:ka (Mohawk) nation. The Kanien'kehá:ka are the guardians of the Eastern door of the Haudenosaunee (Iroquois) nation. The island called "Montréal" is known under the name of Tiohtià:ke in the Kanien'kéha langugage and was historically a meeting point for multiple native nations. We actively support the sovereignty and self-determination of indigenous people, and we strive to better our collective knowledge of indigenous struggles.
The agenda of the assembly will be as follows:
Presentation and basic principles,
Introduction of the people and groups which are present,
Feedback on the Octoboer 7th demonstration,
Reflections on the current antiracist challenges, identifying struggles we want to participate in,
Discussions in sub-groups based on the challenges identified,
Proposition on how this new antiracist coalition could work,
Schedule next meeting.
For more information, contact us at: info@manifcontreleracisme.org
You are welcome to invite other people or groups you think could be interested.
publié le 2018-10-08 /// published on 2018-10-08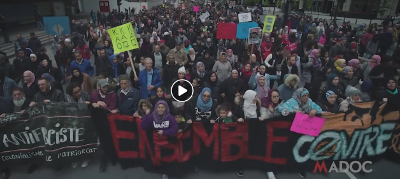 [English version below]
La manifestation contre le racisme a attiré 5000 personnes au centre-ville de Montréal, toutes unies contre les projets régressifs et discriminatoires du nouveau gouvernement.
Ça n'aurait pas pu être une plus belle journée!
Les organisatrices et organisateurs de la Grande manifestation contre le racisme de dimanche tiennent à remercier l'ensemble des groupes et individus qui ont contribué à faire de cette manifestation une si belle réussite!
Avec la présence dynamique de milliers de personnes (nous étions environ 5000 selon de nombreuses estimations indépendantes!), avec les discours émouvants des intervenant-e-s qui ont pris la parole (un merci tout spécial à Van Edouard, Al Harrington et Maya Cousineau Mollen du Wolf Pack Street Patrol, Safa Chebbi d'Alternatives, Marlihan Lopez de la Fédération des femmes du Québec, Yassi de Féministes racisé-e-s uni-e-s et solidaires (FRUeS), Jeremy Gibbs, dont l'oncle -Nicholas Gibbs- a été tué par le SPVM le 21 août dernier, le Collectif Emma Goldman, le collectif Ni Québec, ni Canada : projet anticolonial et plusieurs autres...), et avec l'appui de plus de 50 groupes, collectifs et organisations communautaires et syndicales, cette manifestation antiraciste a pris un caractère historique, alors que le nouveau gouvernement annonce déjà ses intentions d'antagoniser directement les communautés (im)migrantes et racisées et de concentrer des mesures régressives contre les minorités religieuses.
En nous voyant toutes et tous ensemble, uni-e-s contre la haine et le racisme, contre le sexisme insidieux et l'héritage colonialiste qui nous étouffe encore aujourd'hui, l'on pourrait croire que tout est possible, que nous pouvous, ensemble, bloquer le vent de droite qui souffle sur cette belle province. Mais ne nous reposons pas sur cette belle réussite. Il reste beaucoup de travail à faire. Il nous faudra nous mobiliser à nouveau, souvent, avec vigueur, nous serrer les coudes, nous entraider, et surtout, ne pas nous laisser diviser par un gouvernement qui ne manquera pas de manigancer pour semer la discorde dans les forces populaires.
N'oublions pas non plus les groupes et propagandistes d'extrême droite qui se tapissent dans l'ombre, s'organisent et cherchent à prendre de plus en plus de place, avec leurs idées toxiques incitant à la haine de nos voisin-e-s.
Impliquons-nous activement dans les groupes et les projets antiracistes dans nos communautés (si ça n'estt pas déjà le cas), et si un engagement soutenu n'est pas possible, cherchons les moyens d'appuyer les groupes et activités organisées autour de nous pour contrer le racisme, l'islamophobie et la violence genrée.
Nous vous invitons aussi à suivre les groupes qui ont co-présenté la manifestation du 7 octobre, dont Montréal Antifasciste, Solidarité sans frontière/Solidarity across border/Solidaridad sin frontera, Bouffe contre le fascisme / Food Against Fascism - Montréal, La CLAC, et IWW Montréal pour connaître les prochains événements ou vous impliquer davantage.
La lutte ne fait commencer! Ils ne passeront pas!
Voici une magnifique vidéo de la manifestation tournée par MADOC, et quelques albums photos produits par des camarades!
///
Yesterday's demonstration against racism brought out up to 5000 people in Montreal's downtown, all united against the regressive and discriminatory policies of the new provincial government.
It couldn't have been a more beautiful day!
The organizers of Sunday's Mass Demonstration Against Racism would like to thank all the groups and individuals who contributed towards making this event a huge success!
With the lively presence of thousands of people (roughly 5000 according to numerous independent estimates), the passionate speeches (a special thank you to Van Edouard, Al Harrington and Maya Cousineau Mollen from the Wolf Pack Street Patrol, Safa Chebbi from Alternatives, Marlihan Lopez from the Fédération des femmes du Québec, Yassi from Féministes racisé-e-s uni-e-s et solidaires (FRUeS), Jeremy Gibbs, whose uncle - Nicholas Gibbs - was killed by the SPVM last August 21st, the Emma Goldman Collective, the Ni Québec, ni Canada : projet anticolonial collective, and many others...), and with the support from over 50 different groups, collectives, and unions, this anti-racist demonstration wrote a page in history. Meanwhile, the new government-elect has already announced its intentions to directly antagonize migrants and communities of colour, and to introduce regressive measures against religious minorities.
Seeing all of us together, united against hatred and racism, against sexism and colonialism that endures today, we believe that anything is possible, and that all of us, together, can block the forces of the far-right that are taking hold across la belle province. But we will not rest after this most recent victory. There remains a lot of work to be done. We will have to mobilize again and again, often, and with force, get ready, help each other out, and most importantly, not allow ourselves to be divided by a government that won't miss an opportunity to sow the seeds of fear and ignorance among the population.
Let's not forget that there are far-right groups and agitators lurking in the shadows, who are organizing and trying to take more public space with their toxic ideas of inciting hate against our neighbors.
We can get involved in anti-racist groups and projects in our communities (if we aren't already), or if that isn't possible, then we can support groups and activities organized around us to fight racism, Islamophobia, and gendered violence.
We encourage you to follow the groups who co-organized the October 7 demonstration online, including Montréal Antifasciste, Solidarité sans frontière/Solidarity across border/Solidaridad sin frontera, Bouffe contre le fascisme / Food Against Fascism - Montréal, CLAC (Anti-Capitalist Convergence), and the IWW Montréal, to find out about upcoming events, and to get involved!
The struggle has just begun! They shall not pass!
Here is a beautiful video shot by MADOC, and a few photo albums put out by comrades of ours:
publié le 2018-10-06 /// published on 2018-10-06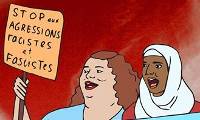 [English will follow]
RAPPEL CONCERNANT LA NATURE NON-PARTISANE DE L'ÉVÉNEMENT
La Grande manifestation contre le racisme se veut un événement non-partisan. Nos revendications, ainsi que la nature même des luttes antiraciste et antifasciste, ne se limitent ni à un gouvernement ou parti en particulier, ni au système politique parlementaire/électoral en général. Comme nous l'avons précisé dès le début, dans la description de l'événement, nous croyons que tous les partis politiques bénéficient et sont complices de la normalisation du discours xénophobe, anti-musulman et raciste au sein du discours politique populaire. Aucun parti participant au système électoral n'est exempt de cette critique.
Alors qu'il s'agit d'une manif de masse, et que les politicien.nes et membres de partis politiques sont donc les bienvenu.es à participer à la manifestation en tant qu'individus, nous vous demandons de ne pas afficher de bannières de parti durant cet événement. De plus, nous vous demandons de ne pas parler aux médias durant la manif - référez plutôt tous médias aux portes-parole de la manifestation, qui seront près du camion de son jusqu'au départ de la marche. Il y aura également un point de presse, dont l'heure et le lieu seront annoncés à l'avance.
Merci de votre coopération avec cette demande.
///
REMINDER REGARDING THE NON-PARTISAN NATURE OF THE EVENT
This Mass Demonstration Against Racism is a non-partisan event. Our demands, as well as the very nature of the anti-racist and antifascist struggles, are not limited to any specific government or party, nor to the parliamentary/electoral system in general. As we have said from the beginning, in the description of the event, we believe that all political parties benefit from and are complicit in the normalization of xenophobic, anti-Muslim and racist discourse in Quebec's mainstream political discourse. No party participating in the electoral system is exempt from this critique.
While this remains a mass protest, and politicians and members of political parties are welcome to participate as individuals, we ask that you do not bring any political party banners to this event. Furthermore, we ask that you do not speak to any media during the demonstration, and instead refer all media to the event spokespersons, who will be near the sound truck up to the beginning of the march. There will also be a press briefing, the time and place of which will be announced in advance.
Thank you for your cooperation with this request.
publié le 2018-10-03 /// published on 2018-10-03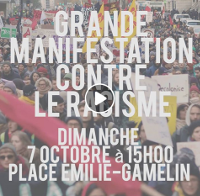 Une courte vidéo de 40 secondes a été produite par des amiEs de Sub.Media avec des images de MADOC afin d'annoncer la manifestation du 7 octobre à 15h00 au Parc Émilie-Gamelin : https://www.facebook.com/subMedia/videos/2186804424912145/
///
A short 40 seconds video was produced by friends at Sub.Media using images from MADOC with the aim to present the October 7th protest at 3PM at Émilie-Gamelin Park : https://www.facebook.com/subMedia/videos/2186804424912145/
publié le 2018-10-02 /// published on 2018-10-02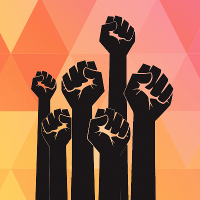 Les élections sont passées et la CAQ est rentrée au pouvoir : Sortons et prenons les rues contre le racisme !
Ce dimanche 7 octobre à 15h00
Place Émilie-Gamelin (Coin Berri et Sainte-Catherine, métro Berri-UQAM), Montréal
Cette manifestation se veut festive et familiale. Venez en grand nombre !
« Si la Meute est sur le bord du racisme, cela veut dire que vous l'êtes aussi M. Legault » Citation du leader (raciste et anti-immigration) de La Meute durant la campagne électorale.
Suites aux résultats des récentes élections au Québec, il est plus important que jamais de descendre dans la rue pour lutter contre le racisme. La CAQ se retrouve au pouvoir avec une majorité politique, ce parti qui a utilisé sans vergogne la xénophobie contre les personnes immigrantes et les minorités religieuses !
Au cours de cette campagne électorale, les personnes immigrantes ont servi de boucs émissaires. Les propositions d'extrême-droite telles que l'abaissement du seuil d'immigration, l'inutile « test des valeurs » ou encore l'expulsion des personnes qui échouent au test de français ne sont que des exemples qui ont induit une peur non négligeable chez les personnes immigrantes. Encore une fois, les femmes portant le hijab ont été une cible de choix en proposant des politiques qui leurs interdiraient de travailler et ce, même en tant qu'éducatrice. Il faut aussi noter que le nouveau parti au pouvoir nie fièrement l'existence du racisme systémique au Québec.
Au-delà des faux espoirs liés aux élections et aux urnes, prenons les rues avec non seulement un message d'opposition claire contre les politiques de droite de la CAQ et de ses nombreux partisans d'extrême droite, mais également pour démontrer notre soutien sans compromis avec tous les membres de notre communauté, en particulier les peuples autochtones, les personnes migrantes ainsi que tous les peuples opprimés. Nous nous réunissons pour une société sans frontières basée sur la solidarité et l'inclusion.
Rejoignez-nous à Montréal ce dimanche 7 octobre à 15h00 à la Place Émilie-Gamelin. Préparons-nous à bâtir un mouvement populaire, créatif et perturbateur contre le racisme au Québec pour les semaines, les mois et les années à venir.
///
After the elections ... All out on the streets against racism!
THIS Sunday, October 7th, 3pm
At Place Émilie-Gamelin (corner of Berri and Ste-Catherine, métro Berri-UQÀM), MONTRÉAL
This is a family-friendly demonstration. Come out in large numbers!
«Si la Meute est sur le bord du racisme, cela veut dire que vous l'êtes aussi M. Legault» - Quote during the election campaign from the leader of the racist, anti-immigrant La Meute
With the results of the recent Quebec election -- giving a majority to a political party that unapologetically used xenophobia against immigrants and religious minorities -- it's more important than ever to take the streets in opposition to racism.
During this election campaign, immigrants have been scapegoated, and made to feel fear, with the promotion of far-right proposals like lowering immigration levels, an unnecessary values test, or deporting people who fail French tests. Women wearing hijabs have again been targeted, with the continued promotion of policies that would deny them work, including as teachers. The incoming governing party proudly denies the existence of systemic racism in Quebec.
Beyond the false hopes of elections and ballot boxes, let's take the streets together with not just a message of clear opposition to the right-wing politics of the CAQ and their many racist far-right supporters, but in uncompromising support of all members of our communities, in particular the struggles of Indigenous peoples, migrants and all oppressed peoples. We come together for a society without borders, based on solidarity and inclusion,
Join us in Montreal this Sunday, October 7th at 3pm at Place Émilie-Gamelin. Let's get ready for the coming weeks, months and years of continuing to build a grassroots, creative and disruptive movement against racism in Quebec.
publié le 2018-10-01 /// published on 2018-10-01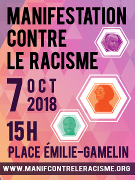 [English below]
Le comité d'organisation de la manifestation contre le racisme du 7 octobre vous invite à une dernière assemblée de mobilisation avant la manif. Cette assemblée aura lieu le vendredi 5 octobre à 18h00 à la Bibliothèque Dira (2035 St-Laurent, 3e étage). Cette manifestation est organisée par une coalition d'organisations antiracistes, antifascistes et anti-colonialistes.
Cette atelier participatif sera l'occasion de vous impliquer dans l'organisation, de se partager les tâches, de rencontrer les différents comités (médic, média,...) et nous en profiterons pour fabriquer plusieurs bannières. Le matériel sera disponible sur place, apportez vos ami.e.s !
Organisé par le Comité d'organisation de la manifestation contre la haine et le racisme.
Événement Facebook : https://www.facebook.com/events/1095432643961068/
///
The organization committee of the October 7th demonstration against racism invite you to a last mobilization assembly before the protest. This assembly will take place on Friday, October 5th at 6PM at the DIRA Library (2035 St-Laurent, 3rd floor). The protest is organized by a coalition of antiracist, antifascist and anti-colonialist organizations.
This workshop will be an opportunity to get involved in the organization, to share the task during the proest and to meet the committees (medic, medias, ...). We will also take the opportunity to make multiple banners. The material will be available at the DIRA, just bring your friends!
Organized by the organization committee of the protest against hate and racism.
Facebook Event: https://www.facebook.com/events/1095432643961068/
publié le 2018-08-22 /// published on 2018-08-22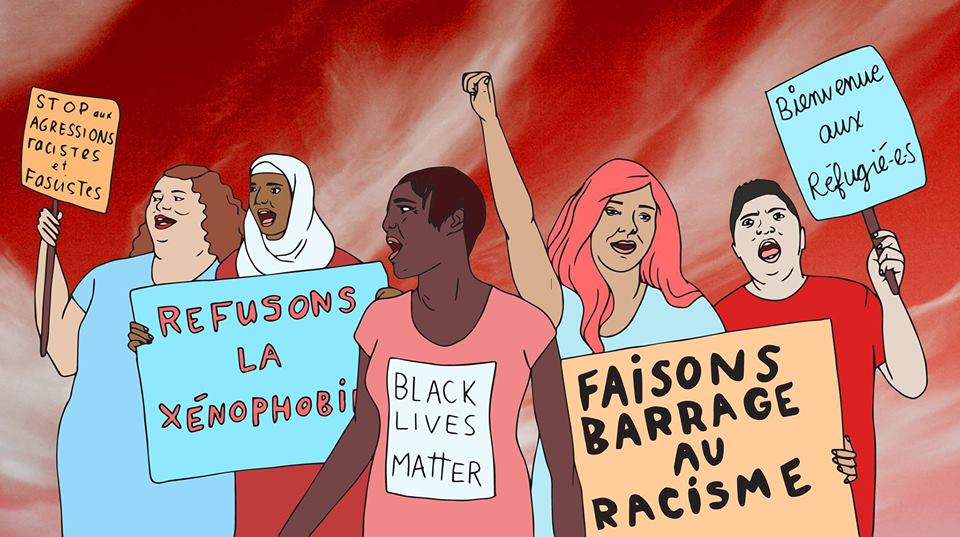 [English below]
La grande manifestation contre le racisme du 7 octobre prochain approche à grands pas. La campagne de mobilisation pour celle-ci sera officiellement lancée par une assemblée de mobilisation le mercredi 5 septembre à 18h au Café Aquin, à l'UQAM.
Cette rencontre aura pour objectif d'organiser la diffusion et la mobilisation de la manifestation à travers nos milieux de travail, d'étude et de vie. C'est une invitation à toutes les personnes qui désirent participer à faire de cette manifestation un succès de mobilisation.
Il y aura un service de garde sur demande et le lieu est accessible en fauteuil roulant. Voici deux vidéos montrant les chemins accessibles aux personnes en fauteuils roulants ou pour les personnes désirant un chemin sans escalier vers le Café Aquin, qui se trouve au deuxième étage du Pavillon Hubert-Aquin :
(Merci à Curieux de Jeux / Game Curious Montréal pour la vidéo.)
Événement Facebook : https://www.facebook.com/events/1643573402421601/
///
Mobilization assembly: Demo against racism
The October 7 demonstration against racism is coming up soon. The mobilization campaign will officially be launched with a mobilization assembly taking place Wednesday, September 5th, at 6pm, at the Café Aquin, at UQAM.
This meeting will have as objective to organize the outreach and mobilization efforts for the demonstration across our respective networks. It is an open invitation for anyone and all who wish to participate in making this mobilization a successful one.
There will be child care on demand and the location is accessible to wheelchairs. Here are videos showing the two wheelchair-accessible paths to Café Aquin, which is on the second floor of Hubert-Aquin Pavilion :
(Thanks to Curieux de Jeux / Game Curious Montréal for the video.)
Facebook event: https://www.facebook.com/events/1643573402421601/