Les élections sont passées : prenons les rues contre le racisme! /// After the elections: All out on the streets against racism!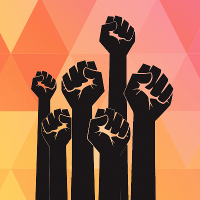 Les élections sont passées et la CAQ est rentrée au pouvoir : Sortons et prenons les rues contre le racisme !
Ce dimanche 7 octobre à 15h00
Place Émilie-Gamelin (Coin Berri et Sainte-Catherine, métro Berri-UQAM), Montréal
Cette manifestation se veut festive et familiale. Venez en grand nombre !
« Si la Meute est sur le bord du racisme, cela veut dire que vous l'êtes aussi M. Legault » Citation du leader (raciste et anti-immigration) de La Meute durant la campagne électorale.
Suites aux résultats des récentes élections au Québec, il est plus important que jamais de descendre dans la rue pour lutter contre le racisme. La CAQ se retrouve au pouvoir avec une majorité politique, ce parti qui a utilisé sans vergogne la xénophobie contre les personnes immigrantes et les minorités religieuses !
Au cours de cette campagne électorale, les personnes immigrantes ont servi de boucs émissaires. Les propositions d'extrême-droite telles que l'abaissement du seuil d'immigration, l'inutile « test des valeurs » ou encore l'expulsion des personnes qui échouent au test de français ne sont que des exemples qui ont induit une peur non négligeable chez les personnes immigrantes. Encore une fois, les femmes portant le hijab ont été une cible de choix en proposant des politiques qui leurs interdiraient de travailler et ce, même en tant qu'éducatrice. Il faut aussi noter que le nouveau parti au pouvoir nie fièrement l'existence du racisme systémique au Québec.
Au-delà des faux espoirs liés aux élections et aux urnes, prenons les rues avec non seulement un message d'opposition claire contre les politiques de droite de la CAQ et de ses nombreux partisans d'extrême droite, mais également pour démontrer notre soutien sans compromis avec tous les membres de notre communauté, en particulier les peuples autochtones, les personnes migrantes ainsi que tous les peuples opprimés. Nous nous réunissons pour une société sans frontières basée sur la solidarité et l'inclusion.
Rejoignez-nous à Montréal ce dimanche 7 octobre à 15h00 à la Place Émilie-Gamelin. Préparons-nous à bâtir un mouvement populaire, créatif et perturbateur contre le racisme au Québec pour les semaines, les mois et les années à venir.
///
After the elections ... All out on the streets against racism!
THIS Sunday, October 7th, 3pm
At Place Émilie-Gamelin (corner of Berri and Ste-Catherine, métro Berri-UQÀM), MONTRÉAL
This is a family-friendly demonstration. Come out in large numbers!
«Si la Meute est sur le bord du racisme, cela veut dire que vous l'êtes aussi M. Legault» - Quote during the election campaign from the leader of the racist, anti-immigrant La Meute
With the results of the recent Quebec election -- giving a majority to a political party that unapologetically used xenophobia against immigrants and religious minorities -- it's more important than ever to take the streets in opposition to racism.
During this election campaign, immigrants have been scapegoated, and made to feel fear, with the promotion of far-right proposals like lowering immigration levels, an unnecessary values test, or deporting people who fail French tests. Women wearing hijabs have again been targeted, with the continued promotion of policies that would deny them work, including as teachers. The incoming governing party proudly denies the existence of systemic racism in Quebec.
Beyond the false hopes of elections and ballot boxes, let's take the streets together with not just a message of clear opposition to the right-wing politics of the CAQ and their many racist far-right supporters, but in uncompromising support of all members of our communities, in particular the struggles of Indigenous peoples, migrants and all oppressed peoples. We come together for a society without borders, based on solidarity and inclusion,
Join us in Montreal this Sunday, October 7th at 3pm at Place Émilie-Gamelin. Let's get ready for the coming weeks, months and years of continuing to build a grassroots, creative and disruptive movement against racism in Quebec.