Assemblée de mobilisation pour la manif antiraciste du 7 octobre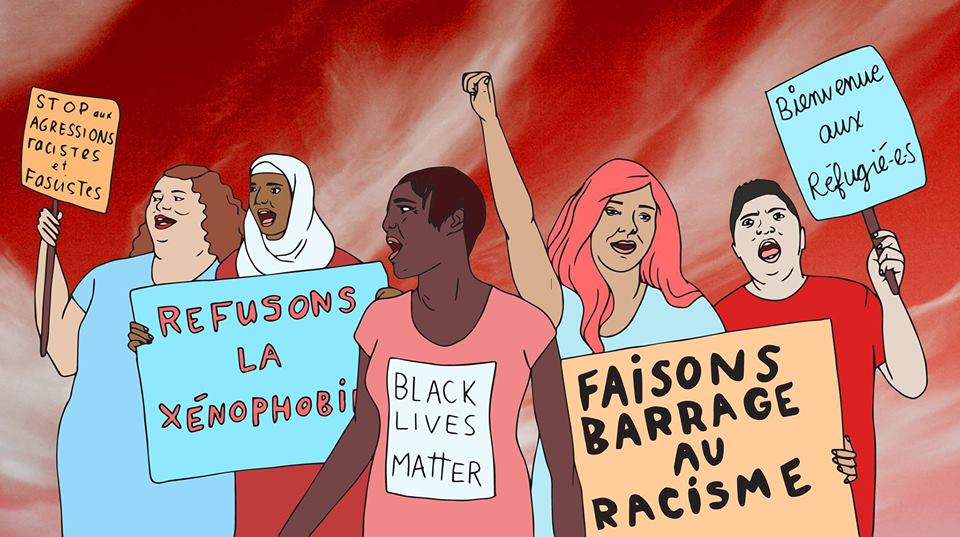 [English below]
La grande manifestation contre le racisme du 7 octobre prochain approche à grands pas. La campagne de mobilisation pour celle-ci sera officiellement lancée par une assemblée de mobilisation le mercredi 5 septembre à 18h au Café Aquin, à l'UQAM.
Cette rencontre aura pour objectif d'organiser la diffusion et la mobilisation de la manifestation à travers nos milieux de travail, d'étude et de vie. C'est une invitation à toutes les personnes qui désirent participer à faire de cette manifestation un succès de mobilisation.
Il y aura un service de garde sur demande et le lieu est accessible en fauteuil roulant. Voici deux vidéos montrant les chemins accessibles aux personnes en fauteuils roulants ou pour les personnes désirant un chemin sans escalier vers le Café Aquin, qui se trouve au deuxième étage du Pavillon Hubert-Aquin :
(Merci à Curieux de Jeux / Game Curious Montréal pour la vidéo.)
Événement Facebook : https://www.facebook.com/events/1643573402421601/
///
Mobilization assembly: Demo against racism
The October 7 demonstration against racism is coming up soon. The mobilization campaign will officially be launched with a mobilization assembly taking place Wednesday, September 5th, at 6pm, at the Café Aquin, at UQAM.
This meeting will have as objective to organize the outreach and mobilization efforts for the demonstration across our respective networks. It is an open invitation for anyone and all who wish to participate in making this mobilization a successful one.
There will be child care on demand and the location is accessible to wheelchairs. Here are videos showing the two wheelchair-accessible paths to Café Aquin, which is on the second floor of Hubert-Aquin Pavilion :
(Thanks to Curieux de Jeux / Game Curious Montréal for the video.)
Facebook event: https://www.facebook.com/events/1643573402421601/