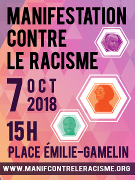 [English below]
Le comité d'organisation de la manifestation contre le racisme du 7 octobre vous invite à une dernière assemblée de mobilisation avant la manif. Cette assemblée aura lieu le vendredi 5 octobre à 18h00 à la Bibliothèque Dira (2035 St-Laurent, 3e étage). Cette manifestation est organisée par une coalition d'organisations antiracistes, antifascistes et anti-colonialistes.
Cette atelier participatif sera l'occasion de vous impliquer dans l'organisation, de se partager les tâches, de rencontrer les différents comités (médic, média,...) et nous en profiterons pour fabriquer plusieurs bannières. Le matériel sera disponible sur place, apportez vos ami.e.s !
Organisé par le Comité d'organisation de la manifestation contre la haine et le racisme.
Événement Facebook : https://www.facebook.com/events/1095432643961068/
///
The organization committee of the October 7th demonstration against racism invite you to a last mobilization assembly before the protest. This assembly will take place on Friday, October 5th at 6PM at the DIRA Library (2035 St-Laurent, 3rd floor). The protest is organized by a coalition of antiracist, antifascist and anti-colonialist organizations.
This workshop will be an opportunity to get involved in the organization, to share the task during the proest and to meet the committees (medic, medias, ...). We will also take the opportunity to make multiple banners. The material will be available at the DIRA, just bring your friends!
Organized by the organization committee of the protest against hate and racism.
Facebook Event: https://www.facebook.com/events/1095432643961068/