Manifestation contre la Vague bleue, le racisme et l'islamophobie [organisé par Montréal Antifasciste]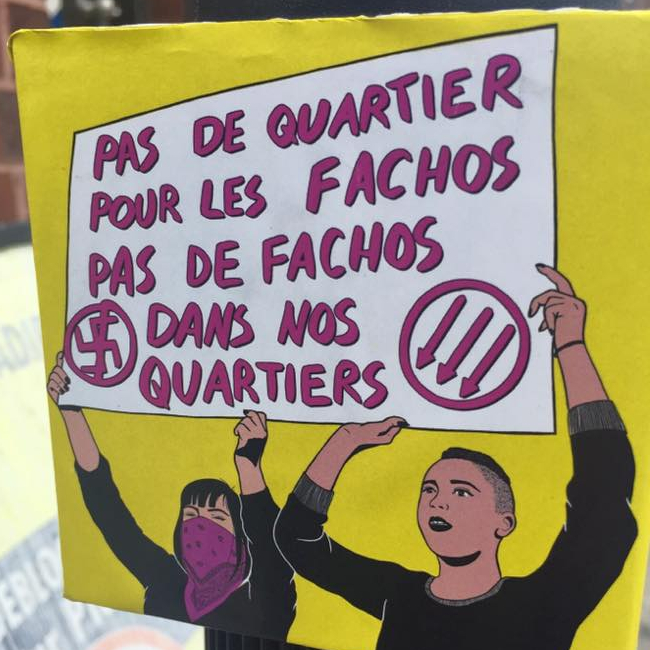 (English will follow)
Manifestation contre la Vague bleue – pas de racistes dans le Village ! [organisé par Montréal Antifasciste]
Le 4 mai prochain, la droite identitaire québécoise de tendance national-populiste (celle qui anime ce qu'on appelle la fachosphère en ligne) se donne rendez-vous à Montréal... devant les studios du réseau TVA (après une courte marche)! Le motif exact de cette « Vague bleue » est plutôt flou, hormis la volonté de « rassembler ceux et celles qui sont pour une constitution citoyennes (sic) du Québec ». Toutefois, au cours des dernières semaines le discours soutenant cette mobilisation s'est réorienté vers un soutien explicite au projet de loi liberticide de la CAQ encadrant le port de signes religieux par les employé-e-s de l'État.
L'appel à la mobilisation a été lancé par des proches de l'organisation islamophobe et anti-immigration Storm Alliance, et a été relayé des milliers de fois par tout ce que la fachosphère compte d'angry nationalistes remonté-e-s contre tout ce qui n'est pas québécois francophone, blanc et catholaïque. Le Front patriotique du Québec, un autre groupuscule ultranationaliste qui sévit depuis plusieurs années, participe aussi à la mobilisation, ainsi que la clique de soi-disant « gilets jaunes » (un dévoiement droitiste du mouvement populaire français) qui se réunit devant les studios de TVA depuis plusieurs mois pour dénoncer le traitement « gauchiste » et « globaliste » de l'information par ce réseau d'information! Une pareille idiotie ne s'invente pas...
Signalons aussi la présence parmi les organisateurs de la « Vague bleue », de Michel Meunier, alias Mickey Mike, qui s'est publiquement réjouit du récent massacre de 50 personnes de confession musulmane à Christchurch et a souhaité qu'un nouvel attentat meurtrier s'abatte sur les communautés musulmanes du Québec. La présence d'un raciste comme Meunier dans le comité d'organisation de la Vague bleue ne laisse aucun doute sur l'alignement politique de cette action et de ses organisateurs.
C'est une «Vague» xénophobe, islamophobe, intolérante et hostile à la diversité. qui menace le vivre-ensemble de Montréal en plein cœur du Village, un quartier qui représente la mixité et la co-habitation.
Dans la mesure où nous refusons de laisser des racistes sortir dans la rue sans opposition, nous invitons les antiracistes et antifascistes à se réunir au métro Papineau, à midi le 4 mai, pour ne pas laisser le champ libre au racisme et à la xénophobie. Montréal est une ville profondement antiraciste et nous entendons bien le démontrer, une fois, une fois de plus.
(crédit image ZOLA street art)
///
Demonstration against the Vague bleue—No Racists in the Village! [organised by Montréal Antifasciste]
On Saturday, May 4, the national-populist tendency of the identitarian right (those who give life to what one could refer to as the online fachosphere) are gathering in Montréal outside of the TVA studios (following a short march)! The precise reason for this "Vague bleue" has been more than a little fuzzy. Aside from a desire to "bring together those who support a citizens' (sic) constitution for Québec." However, in recent weeks the discourse in support of this mobilization has gradually shifted toward support for the freedom crushing CAQ bill targeting employees of the state who wear religious symbols.
The callout for the demonstration was issued by people close to the Islamophobic and anti-immigration group the Storm Alliance and has been shared thousands of times by the fachosphere's angry little nationalists, who are in a lather about anything and anybody that is not Francophone, white, and Catholic. The Front patriotique du Québec, another ultranationalist groupuscule that's been foaming at the mouth for years now, is also participating in the mobilization, as is the clique of so-called "Gilets jaunes" [Yellow Vests] (a right-wing deviation drawing on the popular French movement), which has been gathering outside of the TVA studios for months now to denounce the "leftist" and "globalist" information spread by the network! You can't make this shit up. . .
The presence of Michel Meunier, alias Mickey Mike, among the organizers of the "Vague bleue" should also raise some eyebrows. Meunier publicly celebrated the recent massacre of fifty Muslims in Christchurch and has called for a new murderous attack like that targeting the Muslim community in Québec City in 2017. The presence of the racist like Meunier on the "Vague bleue" organizing committee leaves no doubt as to the political nature of this action and its organizers.
This "Vague," or wave, of xenophobia, Islamophobia, intolerance, and hostility to diversity in the heart of the Village, a neighbourhood that symbolizes diversity and shared space, is a threat to the live and let live ethos of Montréal.
We refuse to let the racists take the streets, and we invite antiracists and antifascists to join us at the Papineau Metro on Saturday, May 4, at noon, to prevent this open display of racism and xenophobia. Montréal is a deeply antiracist city, and we intend to make that clear, once and for all.
(image credit ZOLA street art)