Manif : Justice pour George Floyd /// Demo: Justice for George Floyd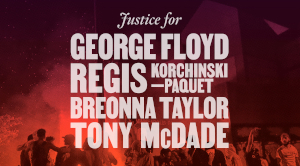 https://www.facebook.com/events/537732646906176/
Justice pour George Floyd (Minneapolis), Regis Korchinski-Paquet (Toronto), Tony McDade (Tallahassee), Breonna Taylor (Louisville) et TOUTES les victimes de l'impunité policière
Manifestation de solidarité de Montréal
Dimanche 31 mai, 17 h
au quartier général de la police de Montréal, 1441 St-Urbain (entre de Maisonneuve et Ste-Catherine)
///
Justice for George Floyd (Minneapolis), Regis Korchinski-Paquet (Toronto), Tony McDade (Tallahassee) Breonna Taylor (Louisville), and ALL victims of police impunity
Montreal Solidarity Demonstration
Sunday, May 31, 5pm
at Montreal Police Headquarters
1441 St-Urbain (between de Maisonneuve & Ste-Catherine)
(English below ...)
///
Au cours des derniers jours, nous avons assisté à une résistance courageuse face à la violence raciste de la police à Minneapolis, et partout aux États-Unis, après le meurtre de George Floyd, tué par les flics. Pendant ce temps, à Toronto, mercredi dernier, Régis Korchinski-Paquet est décédée en tombant d'une tour de balcon de grande hauteur, alors qu'elle était seule avec la police. Le même jour, Tony McDade a été tué par la police à Tallahassee. En mars, Breonna Taylor a été abattue par la police dans son propre appartement, et des manifestations ont récemment éclaté à Louisville pour demander justice pour son cas. Malheureusement, nous pouvons mentionner beaucoup plus de noms de vies de personnes racisées qui ont été tuées à cause du racisme de la police, au cours des dernières semaines et des derniers mois.
Alors que nous dénonçons les récents assassinats policiers aux États-Unis, nous dénonçons également les assassinat policiers de personnes racisées ici à Montréal, d'Anthony Griffin à NDG en 1987, à Bony Jean-Pierre à Montréal-Nord (2016), Pierre Coriolan à Centre-Sud (2017 ) et Nicholas Gibbs dans NDG (2018).
La résistance inspirante à la violence policière raciste aux États-Unis exige notre solidarité et notre soutien, même pendant la pandémie.
Nous vous encourageons, si vous le pouvez, à assister à cette manifestation de solidarité en grand nombre dimanche prochain, à déclarer ensemble #BlackLivesMatter et à dénoncer la violence policière et l'impunité contre tout le monde.
(Une initiative de plusieurs militants.es antiracistes et contre les violences policières à Montréal)
///
NB: Tout le monde est encouragé à assister à la manifestation de 17h devant le siège de la police.
AVANT la manifestation, il y aura un événement "Tenir un espace pour la vie noire" qui est exclusivement réservé aux Noirs. Nous avons besoin de ce temps pour être entre nous pour pleurer, partager et nous tenir. Merci de respecter notre espace.
13h-16h00: HOLDING SPACE FOR BLACK LIVES
fb: www.facebook.com/events/255774425529073/
///
Une note sur la sécurité: Dans le contexte de la pandémie de COVID-19, les organisateurs.ices de cette manifestation encouragent tout le monde à participer de la manière la plus sécuritaire possible, en suivant les protocoles de santé publique. Nous demandons aux participants.es de maintenir une distance physique de 2 mètres entre eux et elles; nous avons choisi un lieu de rassemblement où nous pouvons prendre beaucoup de place. Nous demandons également aux participants.es à la démonstration de porter des masques (sauf ceux et celles qui ne le peuvent pas pour d'autres raisons de santé). Nous aurons des masques supplémentaires à portée de main pour ceux et celles qui oublient ou ne peuvent pas apporter les leurs. Nous encourageons une manifestation de centaines, tout en maintenant une distance physique appropriée et en veillant à la sécurité et à la protection de chacun.e. Nous encourageons également les participants.es à venir en voiture et à vélo, ce qui pourrait former une procession dans les rues du centre-ville.
Justice for George Floyd (Minneapolis), Regis Korchinski-Paquet (Toronto), Tony McDade (Tallahassee) Breonna Taylor (Louisville), and ALL victims of police impunity
Montreal Solidarity Demonstration
Sunday, May 31, 5pm
at Montreal Police Headquarters
1441 St-Urbain (between de Maisonneuve & Ste-Catherine)
In the past several days, we have witnessed courageous resistance to racist police violence in Minneapolis and all over the USA, after the police murder of George Floyd. Meanwhile, in Toronto this past Wednesday, Regis Korchinski-Paquet fell to her death from a high-rise balcony tower while alone with police. That same day, Tony McDade was killed by police in Tallahassee. In March, Breonna Taylor was shot by police in her own apartment, and recently protests have erupted in Louisville demanding justice in her case. Unfortunately, we can mention many more names of Black Lives who have been killed as a result of police racism in the past few weeks and months.
As we denounce recent police killings in the USA, we also denounce police killings of Black Lives here in Montreal, from Anthony Griffin in NDG in 1987 to BonyJean-Pierre in Montréal-Nord (2016), Pierre Coriolan in Centre-Sud (2017) and Nicholas Gibbs in NDG (2018).
The inspiring resistance to racist police violence in the United States demands our solidarity and support, even during the pandemic.
We encourage you, if you can, to attend this solidarity demonstration in large numbers this coming Sunday, to declare together #BlackLivesMatter and to denounce police violence and impunity against everyone.
(An initiative of several anti-police brutality and anti-racist activists and organizers in Montreal)
NB: Everyone of all races and backgrounds are encouraged to attend the 17h protest in front of police HQ.
BEFORE the protest there will be a "Holding Space for Black Life" event that is reserved exclusively for Black folks. We need this time to be among ourselves to grieve, share & to hold one another. Please respect our space.
13h-16h00: Holding Space for Black Life.
fb: www.facebook.com/events/255774425529073/
///
A note about safety: In the context of the COVID-19 pandemic, the organizers of this demonstration encourage participants to participate as safely as possible, following public health protocols. We ask that participants maintain 2 meters physical distance between each other, and have chosen a demonstration location where we can take up a lot of space. We also ask that demonstration participants wear masks (except those who can't for other health reasons). We will have some extra masks on-hand for those who forget or can't bring their own. We will gather in hundreds while maintaining proper physical distance, and looking out for each other's safety and security. We encourage participants to attend by car and bike as well, which might form a procession through downtown streets.