Assemblée d'organisation : Manif contre le racisme - Automne 2019 /// Organization Assembly: Demonstration Against Racism - Fall 2019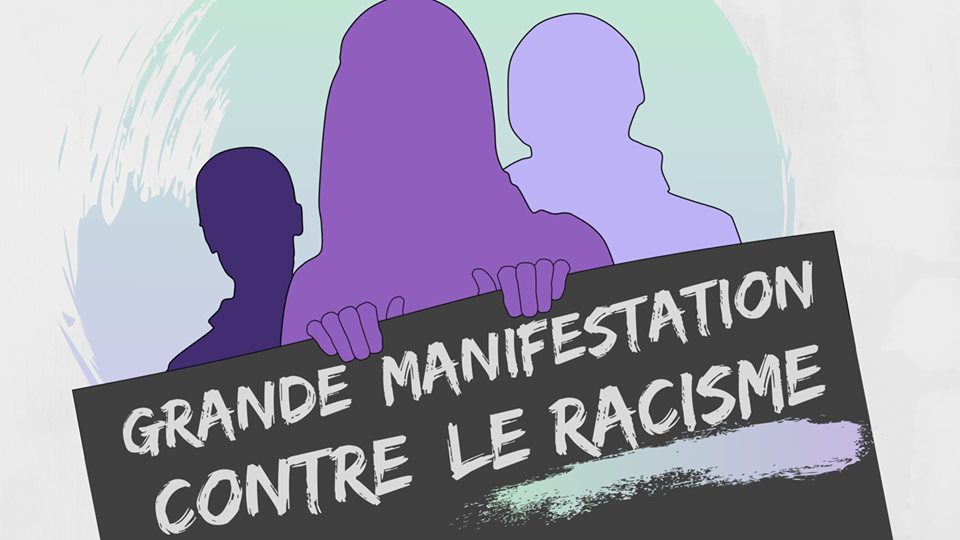 Jeudi, 5 septembre 2019, 19h
Café Aquin, pavillon Hubert-Aquin de l'UQAM, local A-2030, métro Berri-UQAM
Les 12 novembre 2017, 7 octobre 2018 et 24 mars 2019, des milliers de personnes ont occupé les rues de Tiohtià:ke (Montréal), territoire autochtone non-cédé, pour dénoncer le racisme, l'islamophobie et le colonialisme systémiques au Québec comme ailleurs. Cette assemblée publique aura pour but d'entamer la planification thématique, médiatique et de mobilisation pour la 4e Grande manifestation contre le racisme, qui aura lieu cet automne 2019. Tou-te-s personnes et groupes intéressé-e-s à coopérer sont bienvenu-e-s ! En gros, les sujets discutés seront les suivants :
Bilan des dernières manifestations ;
Ce qu'on a aimé et moins aimé (points à améliorer) des dernières manifestations ;
Planification logistique de la manifestation de cet automne (date, lieu, événements connexes, accessibilité, etc.) ;
Notre base unitaire ;
Remue-méninges sur le message et les thèmes de la manifestation ;
Distribution des tâches.
La réunion sera aussi une bonne occasion pour se procurer du matériel de mobilisation (affiches, tracts) pour la manifestation, et de la bouffe gratuite ! Invitez vos ami-e-s - nous espérons vous voir en grand nombre !
Nos principes de base sont présentement les suivants :
Nous nous opposons à l'impérialisme, au colonialisme, au racisme (incluant l'islamophobie et l'antisémitisme), au patriarcat, au capacitisme, à l'hétérosexisme, à la transphobie et à toute autre forme d'oppression.
Nous soutenons l'ouverture des frontières et le libre mouvement des personnes à la recherche de justice et de dignité, c'est à dire la liberté de se déplacer, la liberté de revenir et la liberté de rester.
Nous nous opposons à la montée des groupes d'extrême-droite et fascistes, qui prônent la violence et tiennent des discours haineux.
Nous ne plaçons pas notre espoir dans les politiciens ou les partis politiques, nous croyons plutôt au pouvoir collectif et autonome des réseaux et mouvements populaires. C'est pourquoi nous ne nous affilions à aucun parti politique.
Nous reconnaissons que nous nous trouvons sur un territoire traditionnel autochtone non-cédé, et nous reconnaissons la nation Kanien'kehá:ka (Mohawk) comme la gardienne de ses terres et de ses eaux. Les Kanien'kehá:ka sont les gardien-ne-s de la porte de l'est de la confédération Haudenosaunee (Iroquoise). L'île appelée « Montréal » est connue sous le nom de Tiohtià:ke en Kanien'kéha et a historiquement été un point de rassemblement pour de nombreuses nations autochtones. Nous soutenons activement la souveraineté et l'autodétermination des peuples autochtones, et nous nous vouons à approfondir notre compréhension collective des luttes autochtones.
À NOTER
Partis politiques: Les Grandes manifestations contre le racisme sont des événements de nature strictement non-partisane, et nous ne travaillons pas avec les partis politiques.
Médias: Tous médias (journalistes, etc.) dans la salle doivent s'identifier en tant que médias au début de la réunion.
Accessibilité: Le lieu de la réunion est accessible aux chaises roulantes et aux personnes à mobilité réduite. La langue de la réunion (anglais ou français) sera choisie en fonction du groupe présent, et un service de traduction chuchotée vers l'autre langue (anglais ou français) sera disponible. Des samosas végétariens seront fournis gratuitement. Nous pouvons fournir un service de garde gratuit - simplement nous donner 48h de préavis si vous en avez besoin.
///
Organization Assembly: Demonstration Against Racism - Fall 2019
Thursday, September 5th, 2019, 7PM,
Café Aquin, Hubert-Aquin building of the UQAM, room A-2030, Berri-UQAM metro station.
On November 12, 2017, October 7, 2018, and March 24, 2019, thousands of people took to the streets of Tiohtià:ke (Montréal), unceded Indigenous land, to denounce systemic racism, islamophobia, and colonialism, in Quebec and elsewhere. This public assembly meeting is intended to begin thematic, mobilisation and media planning for the 4th edition of the Montreal Mass Demonstration Against Racism, which will take place in the fall of 2019. All interested groups and individuals are welcome to attend! The subjects discussed will be more or less as follows:
Overview of the last demonstrations;
What we liked and less liked (areas to improve) from the last demonstrations;
Logistical planning for this fall's demo (date, location, connected events, accessibility, etc.);
Our basis of unity;
Brainstorm on the message and themes of the demonstration;
Task distribution.
The meeting will also be a good opportunity to grab mobilization materials (posters, flyers) for the demonstration, and some free food! Invite your friends - we hope to see you there!
Our basic principles are currently as follows:
We are against imperialism, against colonialism, against racism (including islamophobia and antisemitism), against patriarchy, against capitalism, against heterosexism, against transphobia and all other forms of oppression.
We support open borders and the free movement of people seeking justice and dignity, which includes the right to migrate, the right to return, and the right to stay.
We oppose the rise of far-right and fascist groups, which promote violence and spread hate.
We will not count on politicians or political parties, we instead believe in the collective power of autonomous networks and grassroots movements. As such we are not affiliated to any political party.
We recognize that we are currently on traditional, unceded Indigenous territory, and we recognize the Kanien'kehá:ka (Mohawk) nation as the custodians of the lands and waters of this territory. The Kanien'kehá:ka are the guardians of the Eastern door of the Haudenosaunee (Iroquois) nation. The island called "Montréal" is known under the name of Tiohtià:ke in the Kanien'kéha language. It was historically a meeting point for multiple Native nations, and is home to a diverse population of Indigenous and other peoples. We actively support the sovereignty and self-determination of indigenous peoples, and we strive to better our collective knowledge of indigenous struggles.
PLEASE NOTE
Political parties: The Mass Demonstrations Against Racism are strictly non-partisan events, and we don't work with political parties.
Media: All media (journalists, etc.) present in the room will be asked to identify themselves as media at the beginning of the meeting.
Accessibility: The meeting venue is wheelchair accessible and accessible to individuals with reduced mobility. The language of the meeting (French or English) will be decided based on the group present, and a whisper translation service toward the other language (French or English) will be made available. Free vegetarian samosas will be provided. Childcare can be provided free of charge with 48h notice.